"Radius MK2 stands on the shoulders of our previous Radius MK1 model, adding a host of new features whilst keeping our original footprint." - MasterSounds Founder, Ryan Shaw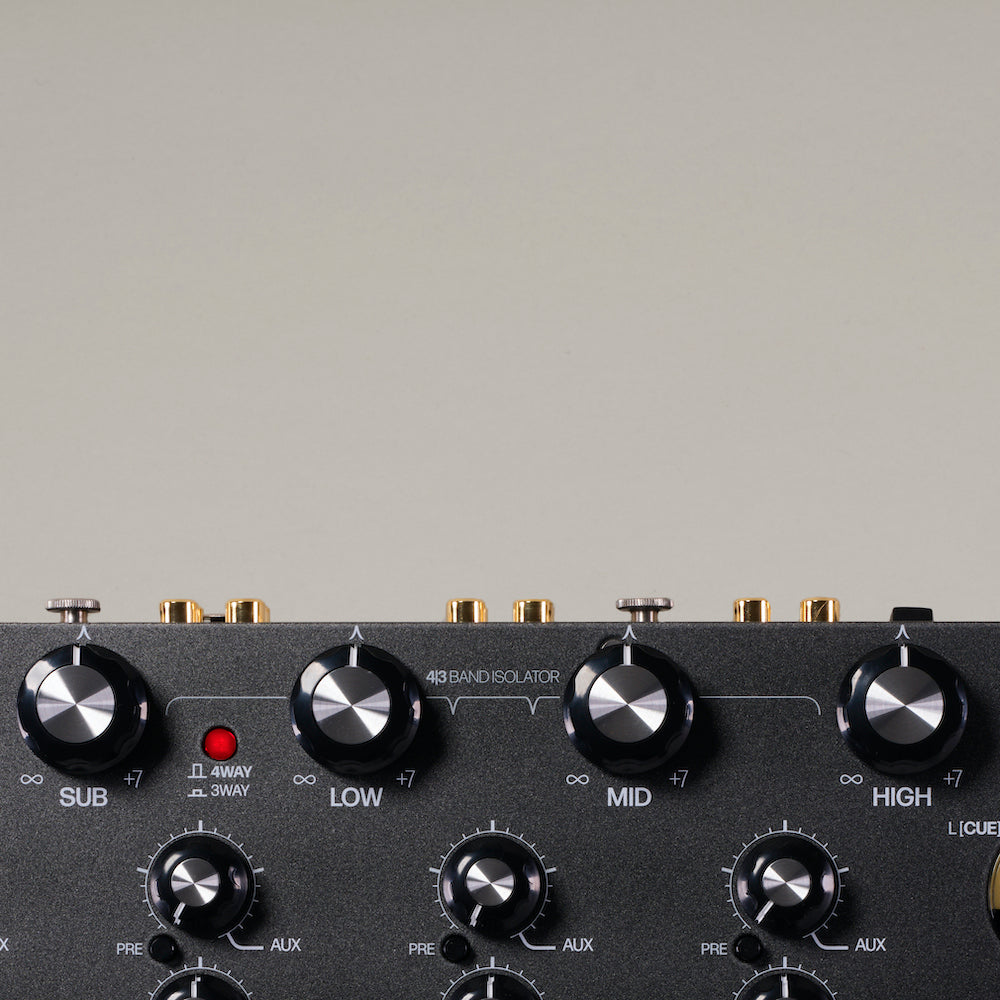 4/3 Band Isolator
The most crucial change to MK2 is our updated 4/3 band isolator, which sits at the helm of the faceplate for perfect playability. 4 bands of isolation, switchable to 3 bands at the touch of a button, with frequency bands from 110Hz to 3000Hz.
Variable Q High-Pass Filter
Radius MK2 also employs our variable Q filter, as first seen on Valve MK2. The new Variable-Q filter provides a natural roll-off at low frequencies, lending perfectly to mixing with filters alone, but as the knob is rotated the Q automatically rises to provide that classic analogue swept filter sound.
Return Control
A new RETURN control allows increased integration capabilities with our SEND/RETURN system, allowing confident control of the return signal when using with inserts like our FX Unit, or 3rd party equipment such as guitar pedals and outboard effects.
Revised Headphone
Following lots of feedback from the MasterSounds family, we are proud to announce a more accessible cue and monitoring system for MK2. This includes not only a 3.5mm mini-jack output (as well as standard 1/4inch), but also a much-requested ADD MIX control for confident cueing in headphones.
"It's incredible to think that the original Radius design is now in its eighth year. It's a product that set the benchmark in terms of performance and affordability, so coming up with a successor has not been easy." - Union Audio Founder, Andy Rigby Jones
Union Audio
All MasterSounds Radius Mixers, FX Units and LinearPOWER Units are hand built with skill, care and attention to detail by the incredible team at Union Audio in Cornwall, UK. Under the guidance of analogue mixer legend Andy Rigby-Jones, each MasterSounds mixers is rigorously built and tested to ensure long-life and customer satisfaction.
Build Quality
The circuitry of Radius is housed in our sturdy full-metal chassis. Our matte powder-coated, hand screenprinted faceplates give the final touch of style to the mixer. All controls are bolted to the faceplate for maximum stability and user confidence. Ventilation is maintained by holes either side of the mixer to create a mixer that is built to last.
International shipping
Packed securely in our strong double box protection, our mixers are ready for shipping anywhere in the world. We are able to ship swiftly to almost anywhere in the world within five days from purchase (if purchased before 12pm BST). All mixers are supplied with the correct power supply and leads for your chosen country.